MORE MUSIC


All sound files are in REAL format
Click the logo above and follow the link at the bottom of that page to download the FREE version.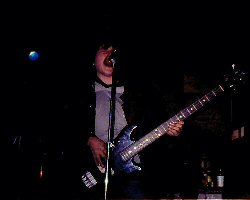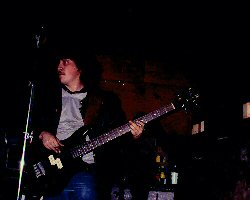 Endless Void - Final Doom EP
1. Living to Die (MP3)
2. New York Girl
3. Prophecy (MP3 Clip)
4. Andromeda/Version 1 (MP3 Clip)
5. Andromeda/Version 2
James L. Owen Jr. from Erie, PA founded the heavy metal band Endless Void in the late 80's. "Endless Void comes on like a cool trippy metal overflowing vat of soup. Metal, hints of industrial and psychedelic, songs like Andromeda with trippy music and lyrics remind me of early Hawkwind". -- Robert Jackson
~~~
Robert Jackson: 8 Volume Song Series
Each volume has 10 songs on it. The volumes span from 1982 all the way to the California Personal Jesus CD out takes in 1998. Includes lots of rarities, demos recorded on 4 track, 16 track and 24 track, WFUV radio special with RJ interview, AIF studio sessions, demos recorded for entertainment attorney, Survivor out takes, live recordings, alternate takes.
Shows the natural progression of Jackson as a songwriter, singer and musician, spanning more than a decade and a half and including acoustic folk rock songs, a couple country ones, 80's influenced metal and hard rock, some art/hard rock, blues rock and most of all straight ahead down to earth rock and roll with its various influences.
Note: Click Links to hear Sound Clips/Songs
Volume 1: 1982 - 1983 (Rock Roots)
1. Lonely Hearted Lady
2. Land of 1000 Suns (hear clip)
3. Go to the Sun (hear clip)
4. New York City
5. Break Free
6. Gypsy in the Night (hear clip)
7. When's it Gonna Stop
8. Rock Child (hear clip)
9. Come on Dance
10. Double R (hear clip)
Volume 2: 1984 - 1988 (Bluesy Rock, some spooky rock, horror rock, metal hard rock, art rock)
1. Arrested (hear clip)
2. Commuting
3. Takin' 2 Days Off
4. Nightmare (hear clip)
5. Zombie Strut
6. Legia the Spirit (hear clip)
7. Year of the Spider (hear clip)
8. Black Witch (hear clip)
9. We Work it Out
10. Nightmare - Band version
Volume 3: 1987-1988 (acoustic folk rock, 1 country song)
1. Plain to See (hear clip)
2. Things I Shouldn't Have Said
3. Dog Without a Bone
4. Before the Blast (hear clip)
5. Spinin' Round (hear clip)
6. Midnight Highway Blues
7. Catch a Train/Midnight Special
8. To Be Free (hear clip)
9. Only the Strong Survive
10. Mr. Sun ( hear clip)
Volume 4: WFUV Radio Special, Bronx NY 1988, RJ interview and folk rock music
1. Interview/Blood on Their Hands - Acoustic version (hear clip)
2. To Be Free - Alternate version
3. Spin'n Round
4. Interview/Tonight Tonight - acoustic version (hear clip)
5. Interview/Midnight Highway Blues (hear clip)
6. Interview/Catch a Train/Midnight Special (hear clip)
7. Interview/Shout - Acoustic version
8. Plain To See
9. Interview - Intro/Knockin' On The Door - Acoustic version (hear clip)
10. Interview
Volume 5: 1989-1991 (rock, 1 country song)
1. Tonight Tonight
2. Knockin' on the Door - Demo version
3. Dreams that Can't be Found - Demo version
4. KGB (hear clip)
5. Love Man
6. The Fever (hear clip)
7. This Business Sucks (hear clip)
8. Everything to Me
9. Barbie Doll (hear clip)
10. F.U. (hear clip)
Volume 6: 1992-1997 (Survivor CD out takes, AIF Studios Session Demos)
1. Girl Like You (hear clip)
2. Steal Away (My Heart) (hear clip)
3. On The Road Again - Live
4. Calling America - Live
5. Freedom Song (hear clip)
6. Gone in the Wind - Demo version
7. Alice Linz - Demo version
8. Gunfire in the Distance - Demo version (hear clip)
9. Personal Jesus - Demo version
10. L.O.V.I.N.G. (hear clip)
Volume 7: 1997-1998 (Demos made for entertainment attorney, California Personal Jesus CD out takes and sessions)
1. China
2. Force is in the Sky
3. Shadow (hear clip)
4. Eyes of Nostradamus (hear clip)
5. Evil Twin (hear clip)
6. Eye of Newt (hear clip)
7. A Child and his Buzzsaw (hear clip)
8. Personal Jesus - Alternate Version
9. Loneliness Subside (hear clip)
10. Lonesome Town - Alternate Version
11. Gone in the Wind (hear clip)
Volume 8: Robert Jackson Band Live at Quickcheck Balloon Fest, NJ 7/26/98 (Raw Live Energy)
1. Lonesome Town (partial)
2. Personal Jesus (hear clip)
3. Knockin' on the Door
4. Blood on Their Hands
5. You Don't Care No More
6. Dead Yuppies on the Highway (hear clip)
7. Freedom Song (hear clip)
8. Jamie Says (hear clip)
9. Gunfire in the Distance
10. On the Road Again (hear clip)
HOME
MORE MUSIC
VIDEOS
PHOTOS
ORDER CDs/MERCHANDISE
MESSAGE BOARD
LYRICS
ACHIEVEMENTS
NEWS/STORIES
TOUR DATES
RJ'S MUSICAL PHILOSOPHY
CD DISCOGRAPHY
JOIN MAILING LIST
EMAIL US
JOIN RJ STREET TEAM
AIF RECORDS AND MUSIC PRODUCTIONS
RJ'S LINKS
NY/CT ENTERTAINMENT LINKS