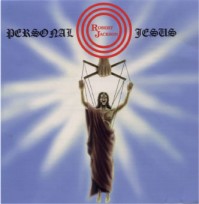 LISTEN


All sound files are in REAL format
Click the logo above and follow the link at the bottom of that page to download the FREE version.
1. Personal Jesus (hear clip / hear song)
2. Knockin' on the Door (hear clip)
3. Dead Yuppies on the Highway ( hear clip / hear song)
4. Jamie Says (hear clip)
5. Gunfire in the Distance (hear clip)
6. Blood on Their Hands (hear clip / hear song)
7. You Don't Care No More (hear clip)
8. Alice Linz (hear clip)
9. Lonesome Town (hear clip)
10. Dreams that Can't be Found (hear clip)
---
REVIEWS
From nyrock.com (May 1999)
Robert Jackson, Personal Jesus (© AIF Records)
Although he has an attractive and tuneful baritone voice, Robert Jackson claims his songwriting comes first. An ASCAP award-winning singer, songwriter and musician who hails from Westchester, NY, Jackson's second national release, Personal JEsus, features songs such as "Dead Yuppies on the Highway," "Gunfire in the Distance," and "Blood on Their Hands," not to mention lyrics such as "I stuck my hand in a fireplace," "I walked onto the roof to jump," and "Don't care for the human race." Don't mistake Jackson for a suicidal mass murderer though, because when given a good listen, you'll find his sardonic lyrics are actually quite thought provoking on social, political, and biblical levels. Shades of Iggy Pop and Lou Reed can be heard throughout this loud and proud, hard rockin' release.
---
From Fright X (December 1998)
Personal Jesus
Robert Jackson
AIF Records
* * * * (Amazing)
---
From International Music Promotions Album Review (May 1999)
PERSONAL JESUS
By ROBERT JACKSON
FORMAT: ALBUM CD
PERSONAL JESUS is the album from Robert Jackson who is based in Westchester County NY, USA. The album was produced by two major label producers and also features two members of Suzanne Vega's band. Robert Jackson is an excellent singer who as won the ASCAP award. His music has been heard on United Airlines and appeared in the French Charts. PERSONAL JESUS is very good all original material and well put together. All in all try it you might be surprised. RATING: 7/10.
---
From Rockpile (October 1998)
ROBERT JACKSON
Personal Jesus
Robert Jackson's songs are upbeat, driving rock with a charm all their own. Songs like "Jamie Says" and the title track convey Jackson's concept of an infectious hook very well. Lyrically, Jackson isn't afraid of stirring up a little controversy, as songs like "Blood On Their Hands" proves. The material on Personal Jesus ends up being diverse and unpredictable. What is consistent, though, is Jackson's energetic, upbeat approach, an aspect sure to lure the listener back again. (PO BOX 691 Mamaroneck, NY 10543)
-Domenic DiSpaldo
---
From Rhythm and News (February 1999)

*** (out of five)
ROBERT JACKSON
"Personal Jesus"
(AIF)
From the title track's heavy drum intro, to the socially conscious and often-sarcastic lyrics, to top production, it appears that Robert Jackson is hitting his musical stride with his latest release, "Personal Jesus," a highly eclectic collection of original songs on AIF Records.
Eclectic is the key word, as there are a lot of different styles represented here, making the CD both an easy and difficult listen depending on who the listener is.
On the one hand, the musically adventurous--those who need some spice in their audio food--will thrill to Jackson's forays into heavy metal, surf, grunge and various tips of his crown to pop and more commercially viable styles.
For those with a more conservative palette, the disc is worth a spin, and that's due to the high quality of the production.
"Personal Jesus" was recorded at Bearsville Studios. Producers Scott Matthews and John Wonderling, though involved with Jackson at different times and on opposite coasts, appear to be on the same wavelength which makes for a sonically consistent CD.
High points include "Dead Yuppies on the Highway," "Gunfire in the Distance," "Dreams That Can't Be Found" and the title track.
For more information, write to AIF Records, PO Box 691, Mamaroneck, NY 10543.
-George A. Fletcher
---
From Music Connection (August 31, 1998)

Robert Jackson
While Robert Jackson may not be much of a rock vocalist in the traditional sense of the word, since he spends most of his time talk-singing, the songs that he writes are strong and his band rocks, not unlike what you might get by sticking Lou Reed in front of a Southern California rock band from the Seventies. This is not to say that Jackson can't be captivating as a vocalist, although it's obvious that his strengths lie in his songwriting skills, which should be of great interest to publishers.

Production
7
Lyrics
7
Music
7
Vocals
5
Musicianship
7

6.6
---
From Emperor Multimedia
Personal Jesus: This solo effort by Robert JAckson is a hip and rocking CD that mixes pop with a hard rock beat. The songs express feelings that probably most of us feel from time to time, the title track Personal JEsus especially. The almost punk-like Dead Yuppies on the HIghway follows this theme and Alice Linz is a great track. This CD is a great effort and very professionally done. GET IT!
---
From Album Network Issue #1097
Robert Jackson, Personal Jesus
Also heard on Rock TuneUp #218.
WHAT YOU SHOULD KNOW: Robert Jackson is an award-winning singer/songwriter from upstate New York. Although he has an extensive résumé as an engineer and producer, Jackson's real love is creating his own music; Personal Jesus, his second release, finds him using all the skills he developed making other people's music sound good. Jackson delivers an intriguing album full of potent pop hooks and solid guitar-driven melodies. he also displays his penchant for thought provoking, socially conscious lyrics, especially in the lead track, "Personal Jesus," a compelling look at greed and human kind's intrinsic desire to rise above the masses and find ultimate power. The tail is told over powerful riffs and an energetic, forceful rhythm. Check this one out.
---
From Powerplay Issue 14

Robert Jackson - Personal Jesus - AIF Records

I have often wondered what Bruce Springsteen would have sounded like if he was not so tied up with blue collar American rock. well, having heard Robert Jackson, I think I know, for at its barest bones, what underpins "

Personal Jesus

" is that honest sound. How Mr. Jackson veers away from that style, is that he mixes in plenty of alternative influences. This gives the album a sound that is anchored just left of mainstream. Most of the songs are written around one catchy hook or another. And, unless the importation of another influence precludes it, they are delivered in a manor that appeals - laid back, but still packed with plenty of notes. This is very mid American, in the Mellencamp/Springsteen way of things. I will not attempt to place all the additional vibes that make up the album, although on certain tracks Robert does appear to travel further from the norm than others.

"Dead Yuppies on the Highway,

" with its very punky assault really kicks ass, whereas, "

You Don't Care No More

," has a metal edge, and there is a nod to Skynyrd elsewhere. The rest of the album is full of melodies that sound like they come from elsewhere, and i feel that I should know from where they come, but I cannot place them. More to the point, I don't want to break from listening to what is a very good album just to check those bits out.

I'd go so far as to say that this CD borders on greatness. IT is always tuneful, if not strictly melodic. It has moments of total class, of which the bitter sweet

"Knockin' on the Door

" is my personal favorite, and some fun throw-away tracks that have the appeal to live for ages, like

"Alice Linz".

All in all, this is a top notch collection of alternative/Leftfield/indie rock, call it what you will, with mainstream adult appeal.

Sounds - 7; Songs - 8, Genre - 9.

- Ian Guy Lochead
---
From Wondrous Stories, Issue 94, November 1999
Robert Jackson - Personal Jesus - AIF Records
This is the second release by this talented New York singer/songwriter but the first to be released in the UK. Apparently, 'Robert Jackson' is starting to make waves in the US and Europe and given the strength of the album, then I would expect success to follow here soon. He is very much in the rock mainstream with a sound that is somewhat similar to the likes of 'Rick Springfield' and 'John Mellencamp' with a little of the alternative approach of the underrated 'Pat Dinizio.' Strong songs backed by excellent musicians, several of whom are from the 'Suzanne Vega' band, ensure that there is immediacy about the material that would be well suited to radio or 'MTV'. 'Robert Jackson' is a fine vocalist and with the aid of some thrilling guitar work and hook laden songs he has produced a quite remarkable album. The title track stands out but there is not a weak track amongst the ten showcased here. Listen to 'Blood on Their Hands' or 'Dead Yuppies on the Highway' to realize you are in the presence of a considerable talent.
Terry Craven
---

---
SURVIVOR OF THE WAR ON ROCK CD/SOUND CLIPS
---
HOME
MORE MUSIC
VIDEOS
PHOTOS
ORDER CDs/MERCHANDISE
MESSAGE BOARD
LYRICS
ACHIEVEMENTS
NEWS/STORIES
TOUR DATES
RJ'S MUSICAL PHILOSOPHY
CD DISCOGRAPHY
JOIN MAILING LIST
EMAIL US
RJ'S LINKS
NY/CT ENTERTAINMENT LINKS